Program Book Quick Start Resource Kit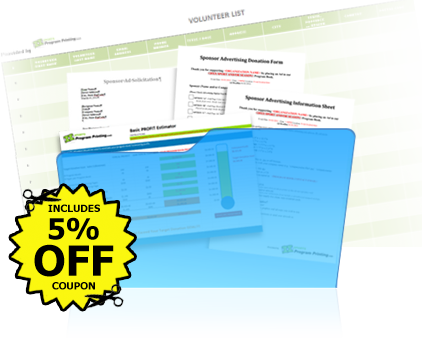 We've put all you need
in one convenient kit… and then some…
Manage your entire fundraiser and avoid costly mistakes with our easy to use tools.
Pre-written Fundraising Letters, Order Forms and more
Planning and Tracking Forms and Spreadsheets
Tips to design and build a professional-quality Program Book
$49.99*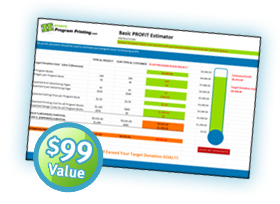 Includes a coupon for a 5% discount off your next program book or media guide purchase.
For a limited time receive our Fundraising Dashboard Spreadsheet a $99 value absolutely FREE with your kit. Plus we will include our free report "5 Critical Fundraising Mistakes You Can't Afford To Make"
Program Book Quick Start Resource Kit
Everything you need all in one place

To ensure your organization's next project is a success we've developed our Program Book "Quick Start" Resource Kit. This resource kit is an incredible collection of premium tools and templates that is sure to make your project a breeze, and take your fundraiser to the next level.
We created this kit as an essential part of our total Program Book and Media Guide solution. When coupled with Program Designer Pro you have the perfect combination: The software provides you with professional design capabilities and the Resource Kit allows you to plan, track and fundraise like a pro.
Our proprietary "Quick Start" Resource Kit includes over 30 helpful templates, covering virtually every imaginable need. For example, you'll receive:
Advertising Sponsor Solicitation Letters and Email templates
Advertising Sponsor Thank You Letters and Email templates
Advertising Donation Tracking Spreadsheets
Advertising Order Forms and Receipts
Project Tasks and Dates Checklist and Schedule
Program Book Content Checklist
Request for Photos Letter and Email template with quality guidelines
Volunteer Recruitment Letter and Email template
and much, much more!!!

You can order our Fundraising "Quick Start" Resource Kit royalty-free for just $49.99. These templates will pay for themselves many times over. In fact, just ONE additional ad generated by one of these form letters will more than pay for the entire library! Plus, think of the TIME you will save not having to write these form letters from scratch!

* After purchasing your Resource Kit you will be able to download it immediately under the Premium Downloads Section of Your Account.
Good luck with your sports program book fundraiser, and thank you for choosing Sports Program Printing!