Flip Books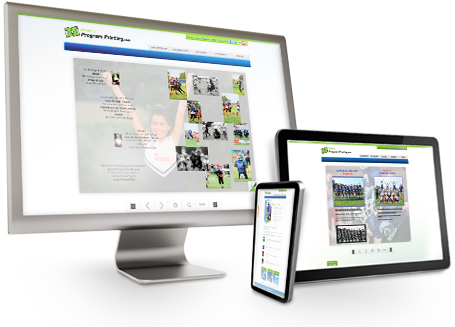 Share your book online
with a Social Media enabled Flip Book
Reach a whole new audience
Design once for print and online viewing
Share your project across most popular devices
ONLY
$99.99*
Flip Books
Share your book with a whole new audience
Our online Flip Books are a great way to increase exposure and access to your program book or media guide. Easily increase value to your advertisers while extending your book's reach to far away fans, family and friends. If you want to distribute your publication on the web in an engaging way, our Flip Books are your answer.
Whether you are currently working with a designer, or are creating your program book or media guide using another software package, we can convert most print-ready PDF files to an online Flip Book. Have a non-sports need for an online Flip Book? Since our technology can create a Flip Book from most print-ready PDF files we can easily convert your magazines, newspapers, real estate catalogs into stunning multimedia presentations. You can share almost any publication online! Just Contact Us for details.

Sharing your Flip Book can be a viral experience. By simply clicking on one of the social media icons above your Flip Book, your readers can socially share to Facebook, Twitter, Google+ and more! Or simply email a link to others.


Unlike other Flip Books that can't be viewed on mobile devices, ours can be enjoyed on most PC and MAC browsers, as well as most mobile devices, including iOS and Android Smart Phones and Tablets.

Drag or click on the corner of a page to flip to the next page
Efficient book and page loading using "Smart Pre-loading"
Use keyboard, mouse or your finger on mobile devices to navigate pages
Flip pages automatically or manually with auto-loop option
Use thumbnail mode to navigate
Zoom in/out pages; double click to change mode

We encourage you to see our Flip Books in action under the

Our Work

section of our website.

We host your Flip Books on our servers at no additional cost, so Internet access is required. Book and page load speed is based on the quality of your Internet connection.
Although we verify our Flip Books work on all popular devices, we can't guarantee everyone will have the same viewing experience.
All Flip Books are available for 6 months from order date. Please contact us if you have special requirements.
To purchase a Flip Book simply select the Flip Book option when purchasing your program book.

PROMOTIONAL USAGE DISCOUNT
We love to showcase our customer projects so we are offering a PROMOTIONAL USAGE DISCOUNT on our Electronic Flip Book. Enter coupon code EFP-PROMO-CODE during final checkout to receive your discount. By accepting this discount you agree to allow us to use items in your order for our marketing and advertising efforts. This typically includes showcasing your project from time to time at trade shows, in marketing communications and on our web site.
Good luck with your sports program book fundraiser, and thank you for choosing Sports Program Printing!